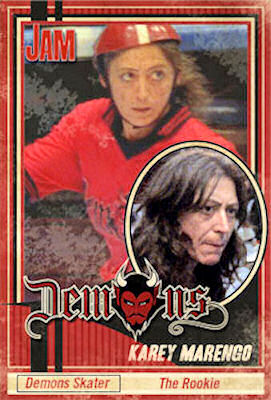 Karey Marengo
by Bill Nagy on January 18, 2001
How and when did you become interested in Roller Derby?
Like many fans in the early 60's, Karey discovered the Roller Derby when flicking through the TV channels one Saturday afternoon. Prior to discovering Roller Derby, Karey was an avid roller skater who could be found regularly skating around her neighborhood. Fortunately for Karey, she lived in the Bay Area and was able to attend live games of the San Francisco Bay Bombers on a regular basis along with her brother and a neighbor who would take them to the games.
How did you make the transition of being a fan of the Roller Derby to someone who actually participates in it?
When Karey saw the Roller Derby, it was love at first sight and it was something she knew she wanted to do. When she was 16, her father took her to the training center in Alameda, California that was run by Buddy Atkinson Sr. Being that she was only 16, parental consent was needed and unfortunately for Karey, her father decided against signing the papers giving his consent for her to train at the time. As bad luck would have it, once Karey was old enough to attend the training center without parental permission, it was 1973 and Jerry Seltzer was on the very verge of folding the original International Roller Derby league.
With the original International Roller Derby League folding at the end of 1973 and with Karey graduating high school and pursuing other endeavors, for many years, Karey would lose touch with the skating world. However, during the summer of 1996, as skaters prepared at a makeshift training center for a game at the famous San Francisco Cow Palace, the spark to lure Karey back to the banked track would ignite in her once again and she would finally set into motion her childhood dream of being a professional Roller Derby player.
Who were the skaters you most admired when watching Roller Derby as a fan in the 60's? Who would you like to pattern yourself after now that you are actually a skater yourself?
Tony Roman and Carol Meyer were the 2 skaters who Karey admired most and would like to pattern herself after. Tony and Carol lived around the corner from Karey when she was growing up. They were genuinely nice people who Karey says trained very hard and who proved that you don't have to physically be big in stature to be tough. Other favorites of Karey growing up were Bay Bombers regulars such as Joanie Weston, Charlie O'Connell, Sue Fregulia, Delores Tucker, and Larry Smith, who Karey says she admires for both his skating and good sportsmanship.
Karey began skating in 1997 in Santa Cruz for the Royal Rollers team when they did a series of home games there. And, on December 5, 1998 during the American Roller Derby League Championship finals at Kezar Pavilion, she received the coveted "Rookie of the Year" award when skating for the New York Demons. It was an honor for Karey to receive this prestigious award and be part of an elite group of past "Rookie Of the Year" winners including Mike Gammon and Jan Vallow (1959) and Larry Smith (1965).
Who was your toughest opponents?
Karey lists Jan Vallow, Gail Bowers, Lori Weikel and Gwen Miller among her toughest opponents.
Who is your biggest rivalry?
Ironically, Karey names Dina Roman, the daughter of Carol Meyer and Tony Roman as her biggest rival.
Will you be skating on the traditional quad skates or will you be using the inline skates?
Karey will be skating on the traditional quad skates. She has tried inline skates but feels they are more confining to her ankle area and gives her less stability for blocking when on the banked track.
What position do you prefer to skate, blocker or jammer?
While the 5 foot 1 inch, 115 pound, brown eyed Karey may be more suited for that of a jammer, she enjoys skating both positions and is eager to gain experience by doing both.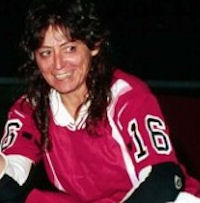 How do you stay motivated to continue to participate in a high endurance sport such as Roller Derby?
Karey's life-long love of roller skating and Roller Derby are the motivating factors for her to continue her training for skating in actual games. That, coupled with her love and respect for fellow skaters, some who she has grown up watching through the years has also motivated her to continue on with her banked track career.
Karey believes that Roller Derby will make a big comeback again. She points out the uniqueness of the sport such as both teams being on offense and defense at the same time and both teams being able to score at the same time, along with the fact that women play by the same rules as men, are all factors in believing that there is still an audience out there to see the sport of Roller Derby.
How do you prepare and train for up-coming games?
Since there is currently no training center in Northern California at this time, Karey prepares for games by skating in local roller rinks. She also has been down to the Lou Sanchez training center in Sylmar, Ca to train on the banked track located in that center.
What can you tell us about your life away from the banked track?
Karey, who has always enjoyed music, has worked for rock promoter Bill Graham for 19 years. She also works part time concert security at the Oakland Coliseum Arena and may even be seen skating around the facility at times.
What is in store for Karey in 2001?
Karey will be skating for the American Roller Derby League in 2001. There is a good possibility she will be teaming with Jan Vallow leading the distaff squad of the Orlando Thunder team. Look for Karey to be an integral part of the ARDL.