Simply Darlene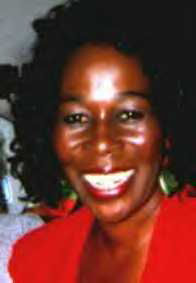 It was a beautiful Friday morning as I made the drive towards the foothills of Pasadena, California and as I watched the sun spots against the mountains and foothills, I knew I was in for a wonderful morning with a very special friend to everyone that knows her--Darlene Anderson. As I drove up to the quaint setting of Darlene's home, I heard the precious voice bellow through the air "What do you want, sir?" I knew my day had begun and I was ready to visit with perhaps one of the most interesting ladies in the world of Roller Derby. The home was decorated so comfortably that I stood there amazed and in awe of the love she had put into her living.
After the formal hugs and gossip was over, we discussed her life and Roller Derby. "My parents," Darlene started off, "well actually, my mother forbid me to play baseball anymore at school because it was too rough, so I encouraged her and my dad to let me take up skating. They both agreed, so off to the roller derby training center with a good friend I went. They both thought I was taking ice skating lessons and," Darlene smiled, "I never told them different."
"I could only practice on Saturdays and after four lessons, would race to the Olympic Auditorium so I could see that night's Roller Derby game. We would have to take many street cars and Saturday being my day and night, I knew I had to make very good use of it. I would stay overnight at a girlfriend's home so my parents did not know anything. I knew my mom would have a fit. After all, I was being raised to be a lady. Oh, I knew she would die. If she forbid me to play baseball, and how rough it was, can you imagine roller derby?" Darlene gritted her teeth and smiled and, in a whisper, said "With my dad, I knew it would be okay, but mom--no. Sometimes dad would cover for me when I used to sneak off and play baseball, so I kind of had a feeling that he would back me in skating. I wasn't ready to take any chances as I enjoyed the training so well. And, keep in mind, I no more expected to be a professional than fly. I just wanted to train and skate in the school and have fun, but to go on a team,--it never entered my mind." "Joanie Weston would have us pace, pace and more pace and I loved it; all day long just pace, jump chairs and pace; I loved it.
Then came time trials at the Olympic in Los Angeles and I was asked to attend. Ken [Monte] and Midge ["Toughie" Brasuhn] were there and many others and taking everyone in name order . Of course, I was first and had to sit and watch everyone else. We were told they needed two girls and two men, yet it never dawned on me that I was actually trying out for a team. I had no clue--Do you understand me? All I wanted to do was skate in the training center." "After everyone was finished, I jumped up, looked at my watch and thought I would be missing the next street car or bus, so off I started to go. Ken Monte then announced:'Darlene Anderson'. I thought well, I can't do that, I just want to skate in the training school. Ken and Midge sat me down and started talking with me and explained.
Darlene
The Chosen One?
"My career had started. My goals and everything was rushing through my mind and I'll have to say, I did accomplish everything I started out to do; working very hard, playing very hard, staying healthy, and most of all, making my parents and family very proud of me, and I did."
"As the game got underway the first night, the report back to me was that the kids in the row in front of my parents were rooting for me and yelling 'go Darlene go, go Darlene go, knock her down, hit her' and every time they would yell, my mother--now picture this small little lady about 90 pounds--reaching over the seats and slapping the kids trying to explain to them 'no, Darlene is a lady, she isn't to knock anyone down.'
I often wonder how many times I did knock someone down. On the brighter side, my mom became Derby's biggest fan, and of course, mine. Did she hold her head high when she walked down the streets of Pasadena, California? You bet she did. Back in those days everyone around here knew each other so mom was as proud as my dad and family that I was a roller derby skater." "As the years went by, from the Brooklyn Red Devils I was sold to the Hawaii All-Stars, spent time on the San Francisco Bay Bombers, New York Chiefs, the Los Angeles Braves and many other powerful roller derby teams."
"You must remember, when I first started skating in 1957, Roller Derby was the most popular up-and-coming sport in America, and I believe, the most exciting."
"The Chosen One?" Darlene sighed and looked around the room and smiled. "I don't think I was the chosen one, just as other blacks were removing bricks one by one as Jackie Robinson and even George Copeland, who was Derby's first black male skater, I too was just another person, I belive, given talent--God-given talent--to make some type of a history mark on America. The lack of media coverage, and television coverage in the late 50's was not what it is today, so perhaps being the first female black skater was to groom me for my life after roller derby. But I do know the world had their eyes on me. I was black and the only black female on that banked oval."
"Not because I was black, but because I was/am Darlene, did I want to be the best on that banked track and I skated hard to obtain the respect of every female skater, as I respected them that skated in Roller Derby. A professional respects another professional and sees no color. The Chosen One? No, just a place God had me working at that time in my life."
Rolling Along
"Well, Jim Greene, the skaters respected me and I respected them. You know, it was kind of a professional spot we all had towards each other. We got on the track, did our job--sometimes rough, sometimes not so rough--we did what we had to do within the limits to make our coach or captains proud of us, as well as ourselves."
"Myself being black, I don't think ever mattered to anyone as I was respected, treated by all skaters on an equal level, and I don't ever remember once that black was an issue. In fact, I think if you ask anyone of our age group, or of our skating group, we saw no color. No, black wasn't an issue or, if it was, the person was kind enough to respect me and keep it to themselves. We were family. We were not color. I truly belive this."
"The fans were always super. They were the best. Of course, we had problems now and then, but with that many people under one roof sometimes all of us got a little hot, but the majority of the fans were the best and I enjoyed them giving me a round of applause when I scored a point or two. It showed their appreciation to me."
"Midge, Gerry [Murray], Mary [Youpelle], Julie [Patrick], Judy [Arnold]--I skated with the best of roller derby's finest skaters and I hate to only mention their names as there were many other excellent roller derby skaters that I competed against that were the best on the track. I feel fortunate that I was able to show my ability of skating to, at one time, the best of them. Today I believe we are all better people just knowing--we knew and skated against each other. We are still friends and family.
Simply Darlene
Thank God for Friends. "My professional skating career could not have taken off if it wasn't for four very good friends of mine and I would like to take this time to again thank them for all the support and introducing me to the world of Roller Derby." "First, to Joan Gregory who was already involved, but had such very bad knees that she was unable to accomplish her dreams. Second, to Ann and Marion George for their inspiration to me. As I look back now, I am saddened that these people were not alongside me. From weak knees to parents that would allow their children the freedom I had. I guess I was a little more lucky than I once thought. If nothing else, just having them for friends." "Fourth and last, but not least, I want to thank Tom--well, Tom Boy, the tomboy in me or whoever that was that gave me that extra urge to never say no and to accomplish an American Dream and to have had so many people touch my life." "Without all their support, the support of my parents, friends and skaters, I truly believe my life would not have been so exciting. However, I know today, that Jesus was in the center of my life all the time."
Life After Roller Derby
"It was over twenty-five years ago that I accepted my real first career move since retiring from the Roller Derby. To my surprise, I was again placed in a position of being the first black woman, here on the west coast anyway, as a Pari-Mutuels Clerk with the Southern California Racing Association. I am still employed there and enjoy my daily contact with people. Being the first person in that position that long ago, I know that like Roller Derby, everyone's eyes were upon me. After all, I am black and right there in front of everyone to see. As with Roller Derby, I held my head proudly, and did and do my job as a professional person."
"I am involved also with CCB Consultants, a Management and Public Relations Group. We show anyone that has the talent in making it in any type of show business the correct way to interview. We groom our students to go in front of any agent or producers. We get them ready for the interview, but make them understand we can't get them the position, only train them how to go about it as a professional."
"I am also very involved in the black community. I guess you would say, well I am trying to put a little of myself back into the community. I am very disappointed with the youth of today, but will not quit praying for them and will not give up on them. We have young black children having children, youth killings and school drop-outs. I know I cannot save the world, but if I can only help one person then my mission in this phase of my life will be complete. I pick up the newspaper everyday and read about blacks, their situations and I become very sad." "Education has to be the key. As technology is."
Darlene Anderson (as told to Jim Greene)