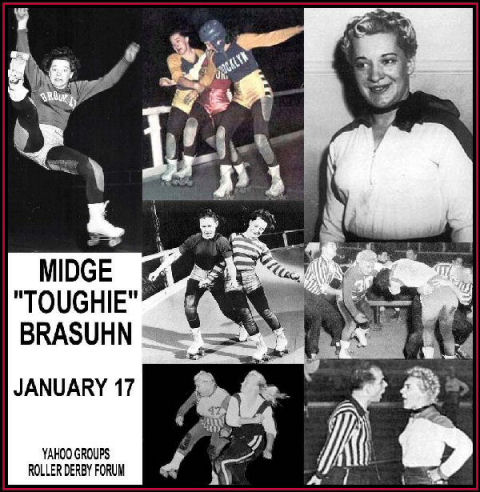 Tribute courtesy of Phil Berrier, Roller Derby Forum
"Toughie" Brasuhn
Roller Derby Star Dies
Chicago Herald
August 25, 1971
Marjorie Brasuhn Monte, known to millions of Roller Derby and television fans in the late 1940's and early '50's as Midge "Toughie" Brasuhn, died unexpectedly in Honolulu, Hawaii. She was 48.
Midge Brasuhn joined Leo A. Seltzer's Transcontinental Roller Derby in 1941 at Minneapolis and went on to become one of the game's biggest stars. Her televised battles with rival Gerry Murray were legendary. In 1950 she was voted one of the country's ten outstanding women in sports by the Sportswriters of America, and is one of only 18 professional skaters in the Derby Hall-of-Fame. Midge retired from the game in the mid-1960's and lived in Honolulu in recent years.
A Very Simple Game
As Told by Ken Monte
"Midge came from St. Paul, Minnesota. Her real name was Marjorie Clair Louise Theresa Brasuhn. Her father was a plumber and her mother worked as a cleaning lady. German family. They had a hard dollar, no easy time. . . She came into the game with the name Midge cause she was so short. I guess that's how it started. She was about four-eleven, four-eleven and a half. Weighed about one hundred thirty-five pounds. You wouldn't call her heavy. She was firm. More chunky than heavy. And she looked fairly big on the track in her skates. . . She was very aggressive. The other girls had to respect her or she'd knock their head off. She was a leader. She knew how to make a point.
It was about a year after we were were married that she became the Derby's real superstar. We went to New York then and that's when they started the big Toughie Brasuhn campaign. They got ready for that down in Miami. They put this big jersey on her and messed up her hair and rubbed some of this green dye off the slate track on her face and told her to scream and took a shot of it and put it on billboards in New York and they said, "Who Is Toughie?" And that went on for four to six weeks before we arrived in New York. . .
Midge didn't mind this at all. She was always a one hundred per cent company person. If it was gonna help Roller Derby, if it was gonna build Roller Derby, she'd do it. She made a pretty important contribution to the game. She gave the Derby something: people can look at the game today and see the girls are equals. On the same basis as a man. I think before your Toughie or your Gerry Murray, those two particularly, people always thought of the girl skater as a freak or a sideshow. But these two girls made women mean something to the game, showed they were just as strong, that a point was just as important if it was scored by a girl."
Toughie left the Derby around 1962. She later joined Roller Games in the mid-Sixties. After retiring, she moved to Hawaii with her son Billy Golba.
Midge Brasuhn and Gerry Murray are two names that are inexorably linked in Roller Derby history. The Seltzer family may have owned and operated the Roller Derby but Toughie and Gerry built it and kept it going. They are who the fans came to see night after night. They built their reputations and that of Roller Derby with their fierce competition and their loyalty to the game. Individually, they were tremendous skaters. As rivals and competitors, they set the bar for all who would follow.
What must it have been like for a person like Midge Basuhn? Skating was her life. Whatever her personal demons and skating must have surely contributed to those, she couldn't have given more to skating and its fans. She was one of the ultimate Roller Derby skaters.