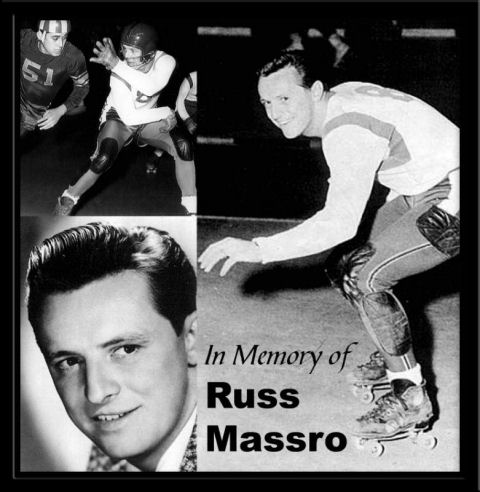 Tribute courtesy of Phil Berrier, Roller Derby Forum
Russ Massro
1928 - 2006
The National Roller Derby League wishes to extend its sincere condolences to the entire Massro family. Roller Derby has truly lost a great man, and his contributions to this sport will never be forgotten. Thank you, Russ Massro, for the wonderful memories...
Profile
Russell Joseph Massro, Sr. was born in Chicago, IL. on July 25th 1928. As a youngster he developed a love for the sport of fishing. Along with his Uncle in Key West, he would help operate a fishing camp, and even had an opportunity to purchase it, yet turned down the offer to "mingle with the Hollywood crowd" as a member of the "Los Angeles Braves" roller-derby team. He, along with his wife, Mary (Youpelle) Massro, were among the first players for the team and would light up the derby-hungry California crowds. Russ would eventually coach the team, as well. Of course, when he wasn't skating, he could easily be found fishing with his closest friends. This was a favorite past-time that would eventually carry into his NFL career for the "Los Angeles Rams" sportsclub. He would wind up ending his 30-year stint as the LA Ram's Assistant Sales Manager once the team moved to St. Louis, and his health started to weaken.
He would later develop Lymes Disease (an acute, inflammatory arthritis involving one or more joints). The arthritis in his spine made it quite difficult to stand from a sitting position and more difficult to move around with ease. His weakened body soon needed the assistance of a defibrillator after his heart had stopped, and he had even lost over 50 lbs. due to an inability to keep food down. Unfortunately, his fishing days would soon disappear...
On Thursday, July 6th 2006 in La Verne, CA. Russ' body was finally able to rest in peace. He was survived by his wife, "Mary," his 2 sons, "Rusty" and "Rickie" and his grandchildren, "Randie Brittany," "R.J." and "Andrew."
Memorial Notes from "Little Iodine" Loretta Behrens
"On July 11th, we left Las Vegas to go to Monrovia for Russ Massro's memorial service. I hate to tell everyone it was the most joyful, yet, sad service. However, to know that one brought so many strangers together in one place to say their farewell was wonderful.
I am sure Russ was looking over all of us, laughing & crying right along with us all. Here was a man that loved to be hated, and in much the same way, he also was so loved... and this was well brought out in his service.
Both of his sons paid a great tribute to their dad along with his granddaughters. His grandson also paid tribute to his grandpa by playing 'Happy Birthday' to Russ on his saxophone with everyone singing 'Happy Birthday' to send Russ off to meet his friends and take over another team in the sky.
During the lunch, people got to view the real roller-derby with the excitement of seeing Russ, and many other people who were in the room, skating. This was a day never to be forgotten!
Mary and the Massro family wants to thank everyone for the lovely flowers, cards and telegrams she and the family have received."