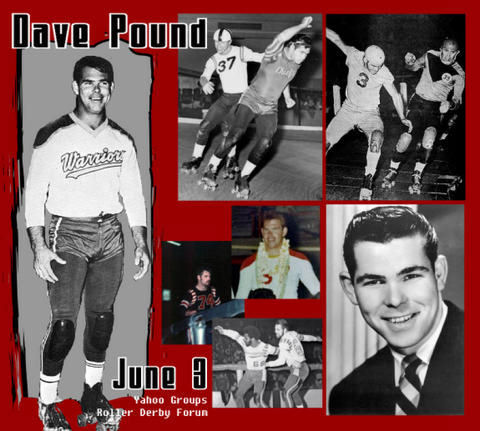 Tribute courtesy of Phil Berrier, Roller Derby Forum
Dave Pound
May 5, 2000
LEGEND DAVE POUND PASSES AWAY!
"GOODBYE DAVE...WE WILL ALL MISS YOU"
Commissioner Griffiths says goodbye to a legend
It was with great sadness that RGI Commissioner Griffiths stated, "I regret to announce the passing of Roller Games legendary Dave Pound, star "bad guy skater" of the 60's - 70's and early 80's. He succumbed to a stroke after a lengthy illness in hospital. "Pound was a favorite "bad guy" in the eyes of all Roller Games fans by his constant badgering of the LA T-Birds regardless of which opposing team he skated for, and he skated or managed them all .... The Hawks ... Devils ... Outlaws ... Bombers ...he even conned the T-Birds into taking him on for a brief spell. It didn't matter, Dave tried them all, and lured tens of thousands of RGI fans trackside to boo and hiss him. He just had a knack, and he loved every minute of it. This is the stuff that makes Dave a true RollerGames Legend." Commissioner Griffiths further revealed that Pound, "off the track, was as nice a person as he was a vile person on the track. Despite Pound's reputation, Dave was one of the nicest skaters in the Roller Games International League and a helluva MAN!" We shall all miss You Dave. God Bless.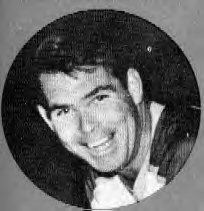 David Wayne Pound was born in Los Angeles California on June 3, 1937. His first game as a roller derby skater was on September 22, 1955 in San Diego as a member of the Brooklyn Red Devils under coach Jules Illes. Thirty six days and 19 games later he became a member of the LA Braves under coach Billy Bogash. In November 1956 Dave joined Gene Gammon's "Bombers" in an exhibition series against Roger Schroeder's "Chiefs" in the far east. On December 28, 1956 Dave returned to the "Braves". In June 1957 Dave was traded to the "New York Chiefs" under Bert Wall as coach. In Jan. 1958 new GM Buddy Atkinson Sr. traded Dave to Ken Monte who was GM of the Brooklyn Red Devils for Hal Janowitz. After a couple of months, Dave suffered an injury that kept him out of action. Around September 1958 Dave returned to the LABraves under new coach Bert Wall.
In January 1959 Dave joined the Chicago Westerners under Hal Janowitz as coach. Then Dave moved back to the Brooklyn Red Devils in 1959 under Jim Ciota as coach. But even with Dave the Red Devils only managed to take fifth place and fail to make the NRDL playoffs. Dave returned to the Westerners in 1959, the playoff champs for 1959. In April 1960 Dave got his chance to coach when he replaced Bill Laurino of the Hollywood Stars. June 1960 saw Fred Cohen promote an exhibition series in Europe and Africa, Dave led the team that would soon become the LA Thunderbirds of the NSD next year. Alan Ebert of Roller Derby News was so impressed with Dave's defensive skills in 1960, that Ebert felt that Dave should be #3 on the NRDL All Star list. However the NRDL did not list Dave on the list as he did not get enough votes in.
1961 was a very hectic year for Dave Pound! He first joined Bert Wall's Hawaiians, then went to John Parkers Red Devils on June 1, then he went to Bill Laurino's Westerners. In August Dave returned to the Hawaiians. Also that year Dave coached a Hawaiian All-star team in Northern California against Charlie O'Connell's Bombers in the NRDL playoffs. In a post season exhibition series Dave backed Hal Janowitz's San Diego Clippers against Bert's LA Braves. The Clippers beat the Braves six games to two.
In 1962 Dave signed as coach of the NY Chiefs in Febuary, by Buddy Atkinson Sr., as GM! In June 1962 Buddy fired Dave, he then joined the LA braves as coach but gave the job to Russ Massro more than a month later. Dave left the Braves and the NRDL and joined in 1963 the NSD as coach of the Chicago Hawks. In August the Hawks lost to George Copeland's LA Thunderbirds in the President's Cup playoffs. In late August Dave was fired by team management. Later in September ,Dave was signed to coach the Clippers, Sidney Dorfman NSD boss fired Dave for no reason. Dave free lanced with the Hawaiian Warriors team until September 1964, then he was signed as coach of the NY Bombers. In December 1964 Dave signed with the new San Francisco Shamrocks as coach. 1965 saw Dave move yet again as coach of the Hawaiian Warriors, and they took third place in the NSD playoffs that year. In 1966 Dave was injured and gets John Parker to coach the Warriors. In November 1966 Dave returns as Warrior coach and by January 1967 Dave quits the Warriors.
In Febuary 1967 Dave returns as Chicago Hawks coach. That year like the previous year there were a lot of inter-league games between the IRDL and NSD, so Dave free lanced with the Warriors and then to Charlie O'Connell's SF Bombers in Northern California, the Bombers beat the Warriors 4-2, so then Dave free lanced again, with his old team the NY Bombers and played against the SF Bombers on July 2-8,1967 beating NY 3-1. When Dave's Hawks failed to make the NSD playoffs, Dave returned to the Pioneers as coach. However right before the games, Dave was injured. In 1969 Dave Dave backs Bill Groll Midwest Pioneer's coach, when the Pioneers play the Thunderbirds Groll let Dave coach, but again he was injured and could not skate the season. Without Dave the Pioneers ended up in fourth place in 1969 playoffs.
1972 Dave was hired a T-Bird GM but by May he was fired. July 1972 Dave finally came to an understanding with the T-Birds. He also beat Ronnie Rains NY Bombers coach in a match race to decide the 1972 President's cup. Dave was named Team Captain that year. No awards were given out that year.
In 1973 Dave was made temporary GM of the Eastern Warriors, but like all else Dave was fired by May 1973 unlike the T-Birds Dave never came to any understanding. After the merger of the IRDL and NSD (Roller Games) Dave in 1974 shook hands with Charlie O and offered his help. I lost track of Dave until after 1977 when Dave was made manager of the NY Bombers, and he held on to that until 1980. Dave had a stroke and for the last few years has been in a nursing home in California.
by Don Jackson